… from the Wychwoods Albums Archive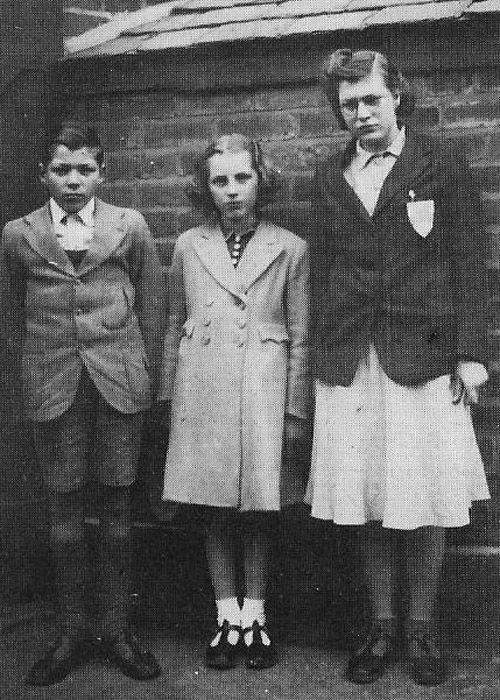 September 1939 saw the first contingent of official evacuees from London to be billeted in the Wychwood villages. The three Lane children were from West Ham and were split up. George was placed with Mrs Tibbitts and his sisters, Joan and Ena, with Mr and Mrs H. Day of Sandford Cottage, Shipton Road, Milton.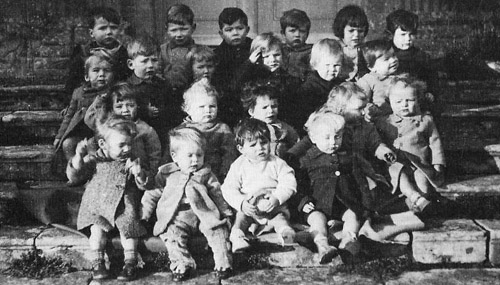 Mr and Mrs Crompton Wood offered part of Bruern Abbey for a War Nursery in 1938. The area around the courtyard, including the billiard and gun rooms, was made over for a Children's Society nursery. Monica Badger (nee Rose) and her sister Vivienne Prentice worked there as assistants helping to care for 24 under-fives from the East End of London. They remember the chaos in the 'potting shed' after breakfast each morning and the chore of cleaning 24 pairs of shoes each evening. Members of the Wychwood W.I. helped with pram pushing, bathing and, particularly, mountains of mending.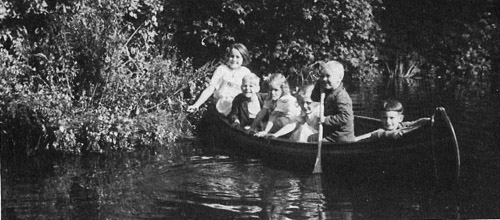 In the canoe are the three evacuated Ault children, billeted with Mrs Wainman at the Prebendal, with her two grandchildren and the son of the Prebendal gardener, Ted Short. Ted was later recalled to the Yorkshire coalmines. The Aults arrived in the second contingent of evacuees who came from Dagenham in 1940 after Dunkirk. The third evacuation was after the Blitz which started in September 1940.
This is one of series of snapshots taken from the Society's publications "The Wychwoods Albums". These publications from the mid to late 1980s feature a variety of images of the Wychwoods, all of which deserve a place in our expanding online archive.
Select from:
WW1 Wychwoods Military | WW1 Wychwoods Memorabilia | Shipton WW1 Miscellany | St Michael's Shipton Early 1900s | Early Prebendal Scenes| Shipton Court 1930s | Milton Scenes Early 1900s | Milton Social Activities | Farming Activities and People | Ascott Early 1900s | Leafield 1900s – 1930s | Fifield Residents Early 1900s | Idbury Early 1900s | Lyneham Miscellany| WW2 Evacuees | WW2 Wychwoods Home Front| WW2 Victory Celebrations|The First Wychwood Album