… from the Wychwoods Albums Archive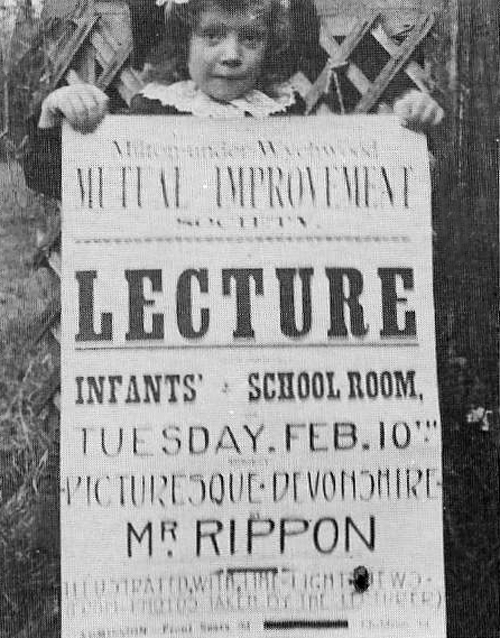 Regular 'improving' lectures were held; another poster advertised 'Our English Cathedrals' on Thursday, 4 March. Admission WaS 3d or by season ticket. This photograph was taken by Ellis Groves, who was also the 'lanternist'.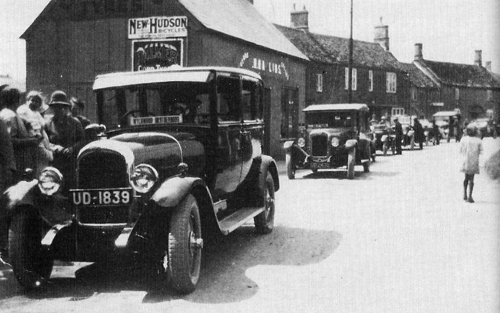 The Brotherhood was a non-sectarian movement but in the Wychwoods it was strongly connected with the Baptist Chapel and the Groves family. In the 1930s, Sam Groves was president and chairman, and James Groves was treasurer. The Brotherhood met at 3pm on Sunday afternoons from October to March.
This outing was setting off from outside W.H. Rawlins, the only garage in Milton or Shipton pre-First World War. In September 1939, the Chipping Norton Advertiser reported the closure of the Wychwood Brotherhood until further notice.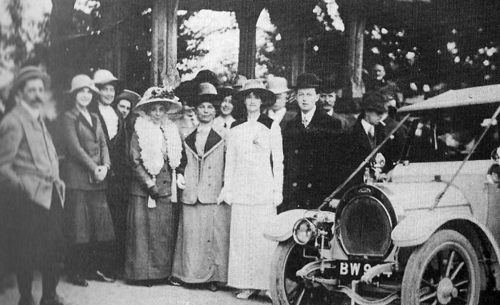 May was the daughter of William and Rose Edginton of Merriscourt, Lyneham and she continued to use her maiden name as an author. The musical No, No Nanette was based on her book "Oh James".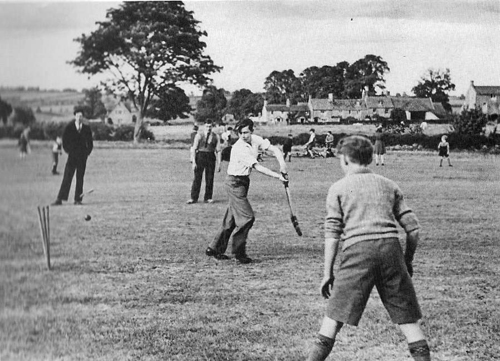 Playing after Milton's Sunday game, the batsman was Philip Coombes with Roy Waine (back to camera) and Stan Dore as fielders and Herman Puddle watching.
This is one of series of snapshots taken from the Society's publications "The Wychwoods Albums". These publications from the mid to late 1980s feature a variety of images of the Wychwoods, all of which deserve a place in our expanding online archive.
Select from:
WW1 Wychwoods Military | WW1 Wychwoods Memorabilia | Shipton WW1 Miscellany | St Michael's Shipton Early 1900s | Early Prebendal Scenes| Shipton Court 1930s | Milton Scenes Early 1900s | Milton Social Activities | Farming Activities and People | Ascott Early 1900s | Leafield 1900s – 1930s | Fifield Residents Early 1900s | Idbury Early 1900s | Lyneham Miscellany| WW2 Evacuees | WW2 Wychwoods Home Front| WW2 Victory Celebrations|The First Wychwood Album