… from the Wychwoods Albums Archive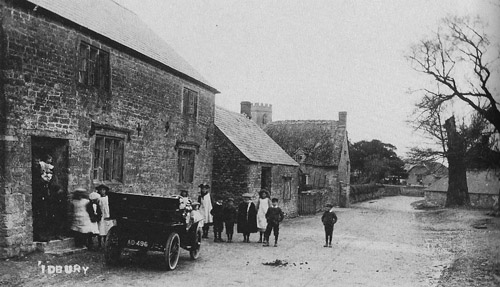 The scene shows the old Idbury smithy in the middle with the tower of the Church of St Nicholas behind. The thatched house, now demolished, was dated 1572 and lived in by the Paxford family. Benjamin Paxford was a Morris dancer in the last Idbury team in the mid-nineteenth century and his cottage was used for practice.
Sir Benjamin Baker was a well- known engineer responsible for the Forth Railway Bridge opened in 1890, for which he received his knighthood. For his funeral in 1907, twelve black ponies were harnessed to the bier at Kingham station and the mourners who had come by special train from London, followed the coffin up the hill to Idbury.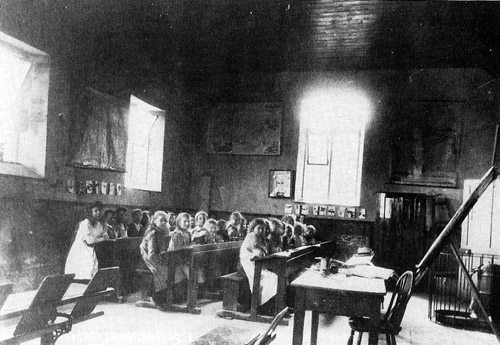 The Church of England School in Idbury was built by Miss Langston of Sarsden in 1846. This photograph is from a unique collection taken by the chief education officer for Oxfordshire, Mr Wilson, who was an enthusiastic amateur photographer.
This is one of series of snapshots taken from the Society's publications "The Wychwoods Albums". These publications from the mid to late 1980s feature a variety of images of the Wychwoods, all of which deserve a place in our expanding online archive.
Select from:
WW1 Wychwoods Military | WW1 Wychwoods Memorabilia | Shipton WW1 Miscellany | St Michael's Shipton Early 1900s | Early Prebendal Scenes| Shipton Court 1930s | Milton Scenes Early 1900s | Milton Social Activities | Farming Activities and People | Ascott Early 1900s | Leafield 1900s – 1930s | Fifield Residents Early 1900s | Idbury Early 1900s | Lyneham Miscellany| WW2 Evacuees | WW2 Wychwoods Home Front| WW2 Victory Celebrations|The First Wychwood Album