… from the Wychwoods Albums Archive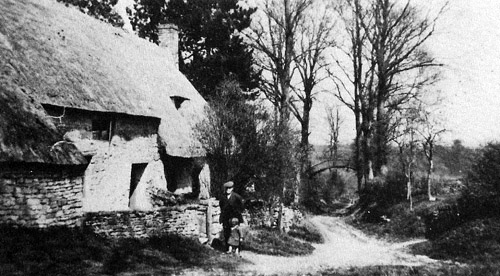 The Matthews family lived at The Gables from the end of the 1890s until F. W. P. Matthews's widow left in 1930. The bridge over Green Lane from The Gables garden to the fields, was built with a high arch to allow loads of hay to pass under it to the Manor Farm rickyard. Emma Matthews used to cross it to feed her hens and Frederick to get to his hunters.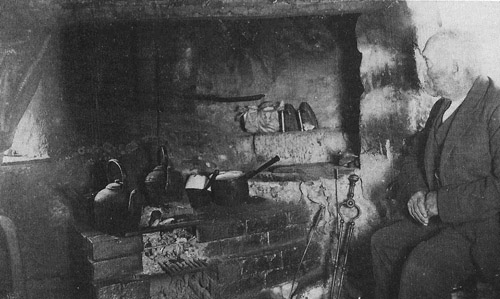 This small thatched cottage of one room with a stone floor downstairs and two bedrooms upstairs was the home of Mr & Mrs Gee and their four daughters and four sons. It was demolished in the 1930s.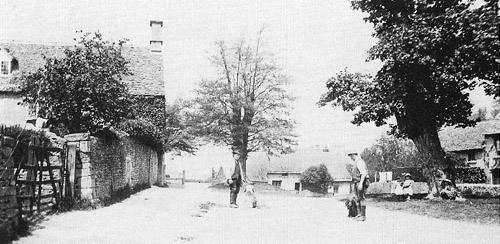 Standing in front of Sidney Arthurs' cottage, since demolished, are Tom Manders with his spaniel and Mr Houlton on the left with an old English sheepdog. Sidney Arthurs was gamekeeper to the Baileys at Foxholes and Bould Wood. Mr Houlton was the Matthews' farm manager and Mr Manders their groom.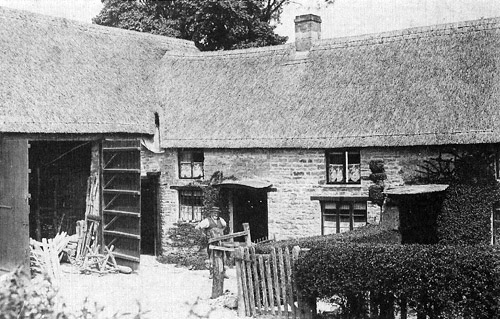 The Arthurs family have a long history in Fifield and are mentioned in the Manor Court rolls in the seventeenth century. From 1856, their occupation was given as hurdlemakers, which they continued until William retired in 1955. A good maker could complete ten hurdles in a day, using willow and ash cut into three lengths and split in a primitive but efficient stand.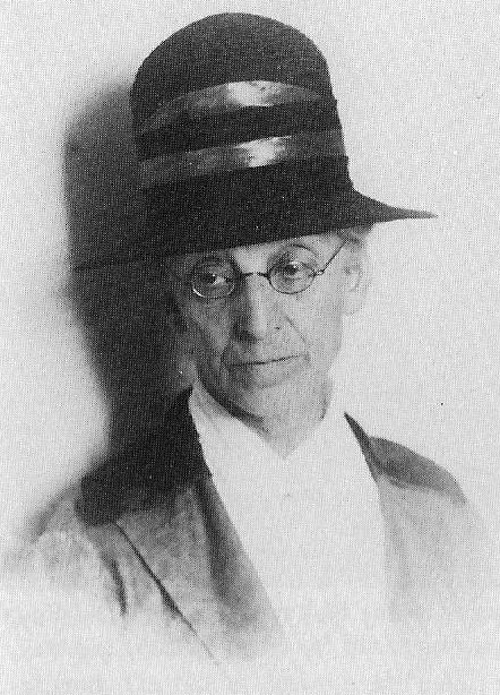 Born in 1864, Maria died on 8 June 1963, two days before her 99th birthday. An intellectual, she never had the academic education she would have enjoyed. Instead she devoted her time to housekeeping for members of her family, and photography. Her photographs illustrated Three Centuries in North Oxfordshire by M. Sturge Henderson, published in 1902.
This is one of series of snapshots taken from the Society's publications "The Wychwoods Albums". These publications from the mid to late 1980s feature a variety of images of the Wychwoods, all of which deserve a place in our expanding online archive.
Select from:
WW1 Wychwoods Military | WW1 Wychwoods Memorabilia | Shipton WW1 Miscellany | St Michael's Shipton Early 1900s | Early Prebendal Scenes| Shipton Court 1930s | Milton Scenes Early 1900s | Milton Social Activities | Farming Activities and People | Ascott Early 1900s | Leafield 1900s – 1930s | Fifield Residents Early 1900s | Idbury Early 1900s | Lyneham Miscellany| WW2 Evacuees | WW2 Wychwoods Home Front| WW2 Victory Celebrations|The First Wychwood Album