… from the Wychwoods Albums Archive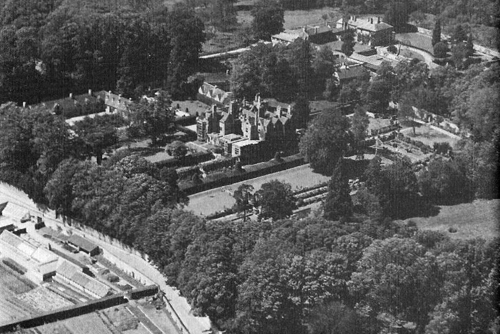 In 1932, Colonel D'Arcy Hall purchased Shipton Court. His son, Professor Hall, remembers his happy childhood roaming the village with his brother Bill, and conducting his first scientific experiments in a room in the stables. During the war, the house was requisitioned for troops and the family and his mother's animals moved to Court Farm. His brother was killed in action with the Irish Guards in the Anzio landings in Italy in 1943.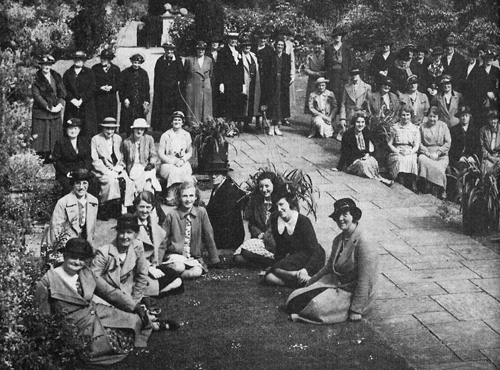 The ladies of the Wychwood W.I. celebrated their 21st birthday with a tea party at Shipton Court with Mrs D' Arcy Hall. The Institute, according to the report in the Oxford Times, was formed in the garden of Mrs H. E. H. Way at Frogmore, Milton. Muriel Groves, standing alone in a checked dress by a tub of agapanthus, was the founding secretary. In 1952 the Wychwood Institute split and separate Milton and Shipton Institutes were formed.
This is one of series of snapshots taken from the Society's publications "The Wychwoods Albums". These publications from the mid to late 1980s feature a variety of images of the Wychwoods, all of which deserve a place in our expanding online archive.
Select from:
WW1 Wychwoods Military | WW1 Wychwoods Memorabilia | Shipton WW1 Miscellany | St Michael's Shipton Early 1900s | Early Prebendal Scenes| Shipton Court 1930s | Milton Scenes Early 1900s | Milton Social Activities | Farming Activities and People | Ascott Early 1900s | Leafield 1900s – 1930s | Fifield Residents Early 1900s | Idbury Early 1900s | Lyneham Miscellany| WW2 Evacuees | WW2 Wychwoods Home Front| WW2 Victory Celebrations|The First Wychwood Album