Visit to the Oxfordshire Museums Resource Centre: April 2023
This page is archived.
Summary of the visit here
---
The society is arranging an April visit to the Oxfordshire Museums Resource Centre.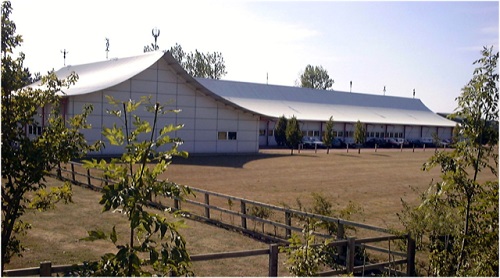 The Resource Centre is open to the public by appointment only, but WHLS members are being offered the opportunity to enjoy a special guided tour. The tour will enable members to see the collections in store, including some from the Wychwood area such as the Bruern Bell and the Shipton Serpent. This is an ideal opportunity to learn more about the activities that take place there.
A group tour for 15 is planned. There is no cost, but a small donation from £3 would be appreciated.
The actual April date will be confirmed as soon as we reach 15 paricipants. We can arrange two simultaneous tours if we reach 30 interested members.
Paricipants should travel independently to the Standlake centre, but of course lift-sharing arrangements are always possible.
To apply to join, or any questions, please email us using this link:
Oxfordshire Museums Resource Centre Visit Query
About the Centre
The centre is a large purpose-built, tent-like structure near Standlake. It houses the collections of archaeology and history that are in the care of the County's Museums Service.
Many tens of thousands of objects are archived there ranging from the tombstone of Oxfordshire's first named inhabitant (a retired Roman soldier ) to an early 18th century wooden blanket loom made from local timber. The Services' conservation, documentation, curatorial and learning and access teams are all based there, as is Oxfordshire's Finds Liaison Officer.