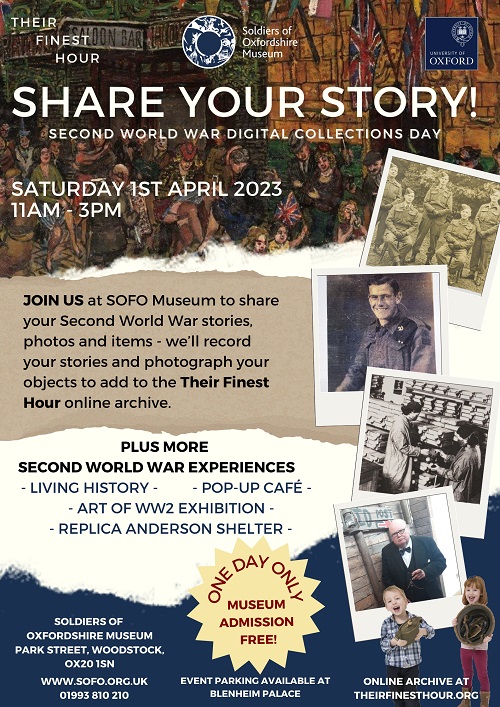 We invite Wychwoods Local History Society members and friends to consider contributing their own WWII memorabilia to an important OU and Heritage Lottery funded initiative.
Bring your stories and objects relating to the Second World War to the Soldiers of Oxfordshire Museum in Woodstock. The Collections Day is part of a nationwide campaign organised by Their Finest Hour.
Objects will be digitised and recorded: the items themselves will remain with you and your family.
About "Their Finest Hour"
Their Finest Hour is a University of Oxford project that aims to collect and digitally archive the everyday stories and objects of the Second World War.
Share your family's Second World War stories and objects for an online archive
Opening from 11am – 3pm, Saturday 1st April 2023
Museum Open Day – free admission to the museum throughout the day
See Second World War living history displays, kit displays and art exhibitions in the museum galleries
World War II stories are fast fading from living memory, so we believe it is vital that they – and the wartime objects that often accompany them – are preserved for future generations.
Here are some ideas:
Stories about your family's wartime experience
Diaries
Letters
Medals
Journals
Ration books
All these and more will be recorded, digitised and then uploaded to the Their Finest Hour online archive, which will be free-to-use and will launch in June 2024.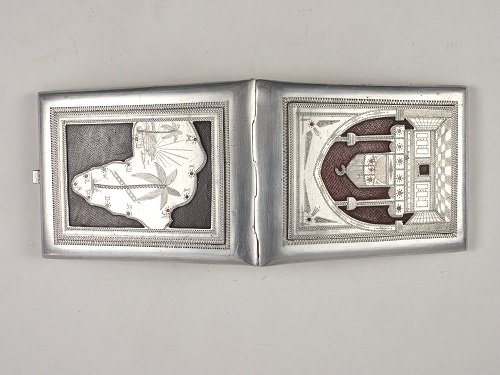 Why Else Visit on April 1st?
The museum will waive its normal admission fee on the day – entry will be free to all on 1st April.
SOFO will also be hosting a range of other Second World War-themed events and exhibitions on the day. Visitors will be able to enjoy displays from 1940s living historians inside the museum and view a recently installed replica Anderson Shelter, as well as a number of exhibitions.
With often limited parking in Woodstock, Blenheim Palace will also be kindly supporting this event, offering free parking to those attending to share their stories. The museum is just a short walk into town through the palace's Woodstock Town gate.
Attending Living History Groups Will Include:
Winston (Churchill)
Doing Their Bit (Home Front)
Oxfordshire Home Guard
Ham & Jam (Second World War British Airborne troops).
Collector John Noott's expansive exhibition, The Art of World War II, will showcase a diverse range of perspectives of the era all produced during the conflict, while the Aces High gallery will have a range of impressive prints – including many signed by veterans – up for sale.
Visitors can talk to museum staff on the day about donating items to the museum's own collection if they wish, but the focus will be on digitisation – photographing objects, recording stories and scanning documents – so original items can remain with their families.
The project team is especially interested in collecting contributions from people from under-represented backgrounds in order to increase the diversity of people benefiting from Second World War heritage.
Find out more at www.theirfinesthour.org
About the Soldiers of Oxfordshire Museum:
Soldiers of Oxfordshire Museum, Park Street, Woodstock, OX20 1SN
Registered Charity No. 1145408