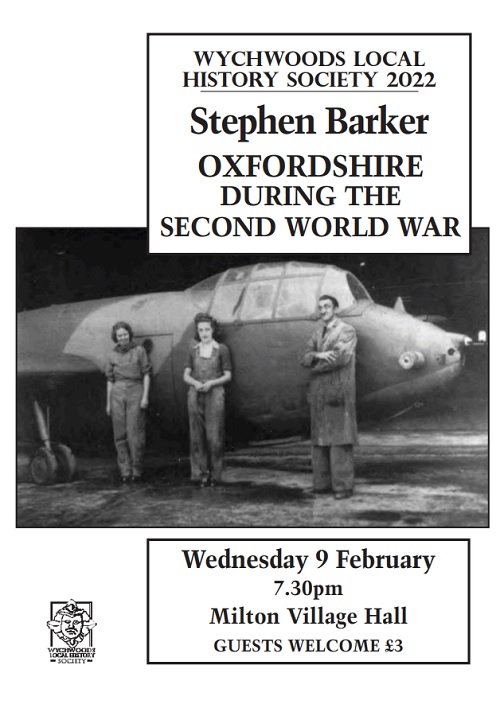 Our February 9th 2022 evening talk was held in the village hall, with a lively attendance of 45+ members and guests. Our speaker, Stephen Barker looked at the impact on, and connections to Oxfordshire during the Second World War.
Questions and feedback observations were lively among the group, and as seems now typical, we had to end our evening with a feeling that there was much more in our collective memories to recall. Perhaps another time?
Oxfordshire during the Second World War: Summary
Reflecting on the fact that it is now 80 years since key moments in the Second World War – Alamein for example, and the fall of Singapore – Stephen took an approach which was based on "impressions" around some key topics, and made very interesting use of a combination of still images and video/audio clips as part of this idea.
So we heard for example, Chamberlain's 3rd September 1939 address to the nation that "we are at war with Germany", and we heard Anthony Eden's announcement of the formation of the Local Defence Volunteers, specifically to address the ever present threat of invading troops landing by parachute.
Thus the talk evaluated the 'home front' and also many other significant events in which Oxfordshire people were involved. Amongst other things, it touched on evacuation, POWs, airfields, refugees, everyday life, rationing, war work, as well as D-Day, Pegasus Bridge, and the Liberation of Bergen Belsen.
Beginnings of War
Having set the scene for the beginnings of war, we heard personal stories of individual children who were part of the throng of evacuees who came from London on the very day that war was declared. These were moving stories of separation, where children had often not been told of the reasons for them being uprooted from their families.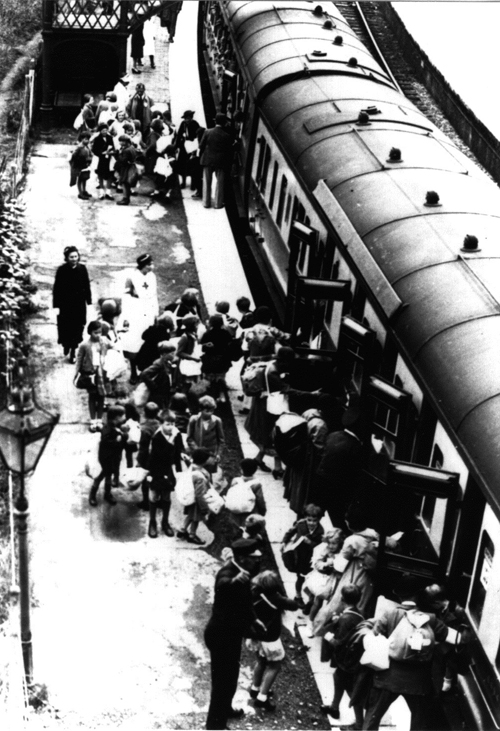 The Home Guard in Oxfordshire
In discussion of the Home Guard, it was clear that the response to the call from the men of Oxfordshire exceeded expectations, and thousands applied to be part of initiative. Thames bridges, and particularly the Oxford Canal were a stop line of defence in case of a channel invasion, and so needed to be manned and defended at all costs. And of course, airfields such as those at Abingdon, Brize Norton and Benson were all to be protected, patrolled and managed.
Bombs and Raids
We had several pictorial illustrations of the effect of bombing in the county. Upwards of 4,000 bombs fell in total with 20 deaths, including the infamous October 1940 Dornier raid on the railway and gasworks in Banbury where 6 men were killed, and much damage caused. We were reminded of the target, which was Banbury's aluminium processing factory where up to 60% of the war effort's requirement for Spitfire and Lancaster airframes were fulfilled. To confuse the enemy, a complete dummy replica of these works was made some way out of town.
Industry, Factories and Munitions
The importance of the Metal and Produce Recovery plant at Cowley was an eye-opener for some [Interesting BBC archive here: Memories of the Home Front in Oxford ].
As well as repairing stricken aircraft to get them flying again, Cowley also had vast spaces dedicated to recycling and cannibalising wrecked aircraft, and also had its pressed steel factory as part of the Nuffield complex.
Women at War
The role of Oxfordshire women in the war years was also illustrated, including images of "Make do and Mend", knitting circles and domestic workers, as well of course as the role of Land Girls. Some discussion around the portrayal of Land Girls in the 1990s novel by Angela Huth and its associated movie, which focussed on the love lives of these women. This may or may not have been authentic or realistic!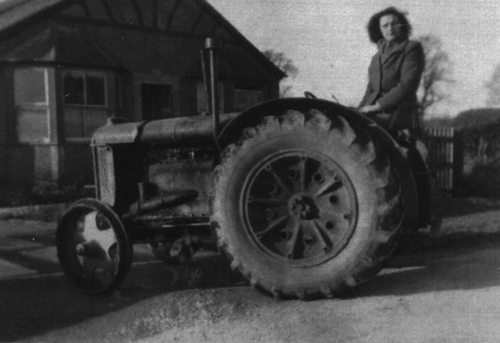 The important work of World War Two women is encapsulated in the example which Stephen gave of Mary Ellis, born Mary Wilkins on 2 February 1917, in Leafield, who was one of a group of women who delivered Spitfire aircraft from factory to their squadron headquarters.
Prisoners of War in Oxfordshire
With over a half million prisoners of war in the country, Oxfordshire had its fair share. We heard stories of children accompanying POWs to work in the fields, and of a group of Italians tasked to build their own POW camp. Several members of our audience had their own stories of growing up with domiciled POWs who had married and settled to life in Oxfordshire village, and indeed stories of American GIs who were dealing with the culture shock of "two nations divided by a common language".
Military Adventures and Engagement
Finally, the role of the Oxfordshire military was illustrated by two important engagements. On 6 June 1944, Pegasus Bridge was the objective of members of D Company, 2nd (Airborne) Battalion, Oxfordshire and Buckinghamshire Light Infantry. This was a glider-borne force who were part of the 6th Airlanding Brigade of the 6th Airborne Division during Operation Tonga in the opening minutes of the D-Day Allied invasion of Normandy. The successful capture of the bridges played an important role in limiting the effectiveness of a German counter-attack in the aftermath of the Normandy invasion.
Meanwhile, a sobering note was the reminder that the first British military unit to go into Bergen-Belsen on 15 April 1945 was the 249 (Oxfordshire Yeomanry) Battery of the 63rd Anti-Tank Regiment, Royal Artillery.
Celebrations and Aftermath
Stephen's talk ended with illustrations of VE-Day celebrations and a reminder of the many remaining artifacts and evidence of wartime activities which abound in the county, including pillboxes, Anderson shelters and the still substantial remains of Finmere Airfield near Bicester. These reminders were echoed by the observations by several audience members of their own memories of now gradually disappearing mementos of a wartime landscape.

About Stephen Barker
Stephen is an independent Heritage Advisor who works with museums, universities, and other heritage organisations to design exhibitions and make funding applications.
He worked at Banbury Museum and Soldiers of Oxfordshire Museum. Stephen has delivered projects for University of Oxford, Oxford Brookes University, and the Battlefields Trust. He delivers presentations and tours related to the First World War and British Civil Wars. He is a Trustee of the Bucks Military Museum Trust, the Old Gaol, Buckingham and is an Arts Council Museum Mentor. He is the author of 'Lancashire's Forgotten Heroes' – the 8th East Lancs in the Great War.
More about Stephen here: